Split the bill and get money in the bank with no fees from Google Pay. Split the bill and get money in the bank with no fees from Google Pay. Try it out
Just sent $ for 😬😅🙌
👍 What's next?
Fast and easy. The way paying friends should be.
Quickly pay friends, family, and your favorite dog walker, even if they don't have the Google Pay app. And when it's your turn to pick up the tab, you can get the money sent straight to your bank account – Google Pay won't charge you any fees.
Pay friends
Send or request onAndroid and iOS
Don't let your device get in the way of the group. Pay or get paid on phones running Android 5.0+ and iOS 8.0+, so everyone can pitch in.
Settle up without skipping a beat
Gmail

Messages

Google Assistant

Google Fi

iMessage
Put money in the mail
Use Gmail to send your friends money (and receive it, too). To add money as an attachment, look for the dollar sign ($). Send it to any email address.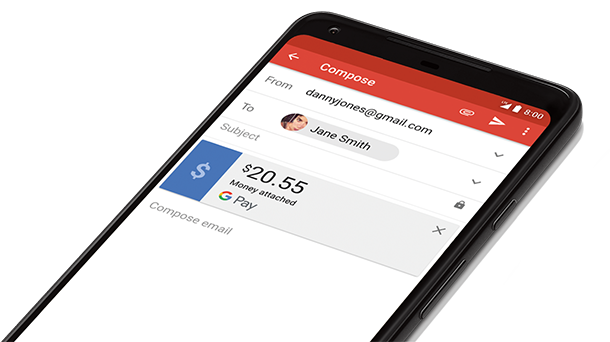 Bring cash into your conversations
Send or request money without interrupting your chat. Just tap on the plus sign (+) and attach money to your message.
Send money just by saying the word
The easiest way to send and request money now begins with "Ok Google." Split the bill with anyone in your contacts using just your voice.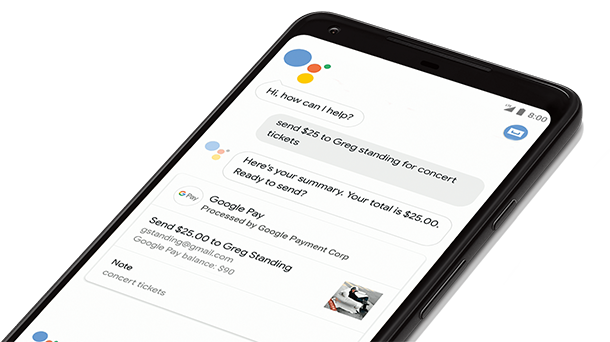 Simplify sharing your plan
Use Project Fi's group repay to divvy up your wireless plan any way you want. Then, set up monthly repayment reminders so no one forgets their share.
Send money in Messages
Still owe Mom for Dad's birthday gift? No need to quit talking. Attach money to your next message and keep the conversation going.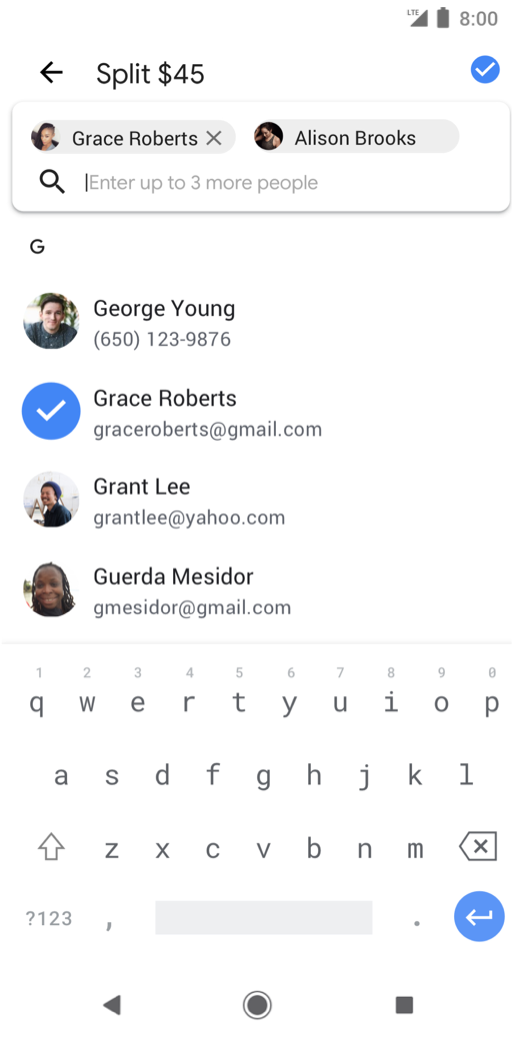 Take IOUs off your to‑do list
Send money on time, all the time
Get reminders whenever it's time to send and request money so you never miss a payment again.
Cash in without cashing out
Set a default payment method and any money that's sent to you will automatically be transferred to that account.
Request money from everyone at the table
Add up to five people and request money all in one go.
Make security a priority
Data encryption
All your financial information is encrypted and stored on Google's protected servers. If needed, you can quickly remove access to your Google Account on any device at myaccount.google.com.
Fraud protection
Google Pay comes with 24/7 fraud monitoring and covers 100% of all verified unauthorized transactions. Learn more about fraud protection. File a claim